Upstream Ag Insights - *Special Edition*
Essential news and analysis for agribusiness leaders for October 5th to October 24th, 2020
Welcome to a special edition of Upstream Ag Insights!
Due to being on hiatus for 3 weeks I have created more of a link based edition with sporadic commentary throughout on the articles I found most interesting over the last few weeks.
If you have any questions, comments or thoughts please do not hesitate to reach out. I can be contacted through any of the platforms in this link:
If you haven't signed up to receive Upstream Ag Insights right to your inbox every Sunday morning you can subscribe here:
Please share with your friends and colleagues as well!
A new technology that Concentric Ag and its plant nutrient division, ATP Nutrition, is offering to western Canadian farmers this fall:
It is a hand-held device with a sensor that the operator places in contact with a soil sample to be scanned. Within a matter of minutes, NutriScan not only measures nitrogen, phosphorus and potassium, but also soil physical properties like pH, CEC (cation-exchange capacity) and organic carbon, along with intermediate nutrients (calcium, magnesium and sulphur) and the full line of micronutrients. The scanner makes the scan and can send a report to your smartphone or through a second hand-held printer it can print out a report of the various nutrient levels.
This is exciting technology out of the Netherlands. If calibrations and results are accurate, it can save time and money when it comes to soil sampling for farmers, retails and agronomists. The reality is there is still a need to do the actual core pulling, but this will eliminate some of the samples that need to be sent into a lab.
A few of the areas I think it can benefit farmers, retails etc:
When it comes to doing soil tests for intensive variable rate, this could be a money saver and begin to reel in a deeper understanding of fields and soils for those intensive tests.

It could deliver results to small areas of the field that draw concerns in season.

In season top dressing of nitrogen.

Nutrient deficiency diagnoses in season.
There is some real opportunity for in season tissue testing as well in the future.
The business model is set up smart:
NutriScan will be marketed in a system similar to a cell phone, says Chambers — buy the hardware and pay an annual subscription fee. And it is a set fee that doesn't increase whether the operator makes 10 scans or a 1000 scans.
They likely make a small margin on the hardware itself, but the real value is in high margin subscription dollars coming in annually. This also incentivizes them to continually progress their software plus increases the usage.
The data they will obtain in terms of understanding soils and the interactions between soil and tissue test levels (not to mention nutrient interactions) will likely set their business up positively in the future to create new products, drive physical micronutrient product business in specific geographies and create programming for farmers and retailers.
I would suspect they are looking at API's and partnerships with various other farm management systems in the future too (once they get this product onto more acres) and other point solution products, say for example irrigation management systems or a company like xarvio.
Many companies lack strength of soil understanding in their digital platform and will need to grasp that to unlock the value of their system in its entirety.
Syngenta acquiring Valagro was big news. We have seen strategic partnerships, venture investments and joint ventures with large agribusinesses and biostimulant companies, however, very few outright acquisitions. One notable one was BASF acquiring Becker Underwood in 2012, however, Valagro is focused more on foliar biostimulants and nutrients.
I think this will be the start of these larger organizations like the Big 5 purchasing a larger bio based group, I've mentioned this before in the August 2nd edition (link at the end of this write up).
Valagro is a market-leading producer of innovative Biologicals, with a ~10% CAGR from 2009-2019 and an approximate revenue of $175m in 2019.
The market itself is forecasted to grow at 13.6% annually over the next 5 years.
Valgaro is one of the largest biostimulant companies globally, others include the likes of UPL (through Arysta acquisition), Omex, Stoller and Marrone Bio.
Acquisition reinforces Syngenta's sustainability strategy and continues to fuel their evolution of products.
I break down more biostimulants in the August 2nd edition of Upstream.
Here is an 11 tweet thread that I did a couple of weeks ago as well on biologicals:
This is a good move by FBN to create a network, system and process to better understand an ever growing trend in the input business.
This does numerous things for them:
Own a spot in farmers/industries minds as a biological leader.

Understand the biological potential by geography, microbe type, use case etc

Attract biological companies and build out their portfolio of product offerings for the future.

Support their sustainability initiatives.
The execution is much harder, surrounding the understanding of the soil types, geographies etc, there is no doubt in my mind FBN is looking to partner or work with technologies like those of Trace Genomics or PatternAg to build out an even more robust understanding of the biological and soil space.
Related: Synthetic Biology Startups Raised $3 Billion In The First Half Of 2020
The European Union has become the first governing body in the world to recognize plant biostimulants as a distinct category of agricultural inputs.
In Canada there are challenges to the registration process and claims to be made on label:
Under the current rules, manufacturers have to choose whether their product will be regulated through the Fertilizers Act and approved by the Canadian Food Inspection Agency or through the Pest Control Products Act and approved by the Pest Management Regulatory Agency.
The challenges is that biostimulants have some need to be very targeted vs. broad brushed.
The U.S. appears to be taking a completely different approach than the EU in regulating biostimulants. There is no distinct framework for regulating the products.
That has led to problems such as exaggerated performance claims and a buyer-beware environment. Growers are forced to research the products in a fragmented and crowded marketplace.
The space has been given a poor name due to poor approaches to the market place early on along with poor economic environments at times in conjunction with some of the regulatory challenges that they have been forced to come through.
I am optimistic that over the course of the next 5 - 10 years there will be a lot better understand, positioning and ultimately efficacy of these types of products.
Glyphosate and Glufoninate continued their increase in price while other major active ingredients trended downwards.
A nice flow chart for understanding some of the dynamics in the active ingredient value chain was shared in this article as well: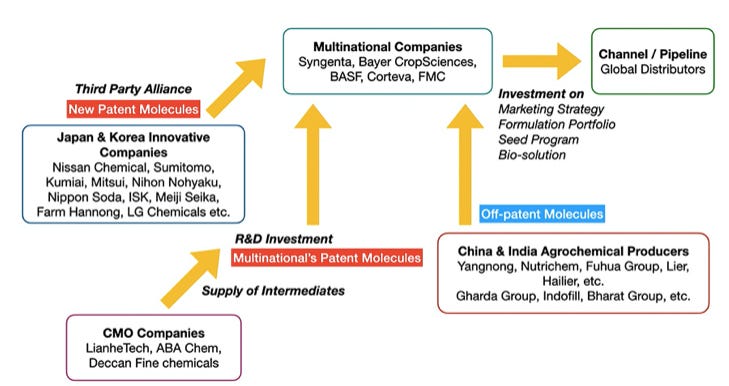 Related: ADAMA to Buy Control of Major Chinese Ag Chem Company - Country Guide
This is Alphabet's (Google) moonshot factory initiative getting a name and having some more specific talking points for the public. Overall, given the track record of this group, this announcement is underwhelming. With that said, it will be the next things they announce and launch that will be more compelling, I think.
Two influential organizations in the online ag retail space in AgVend and CommoditAg get together to discuss optionality for farmers.
This article has some interesting charts: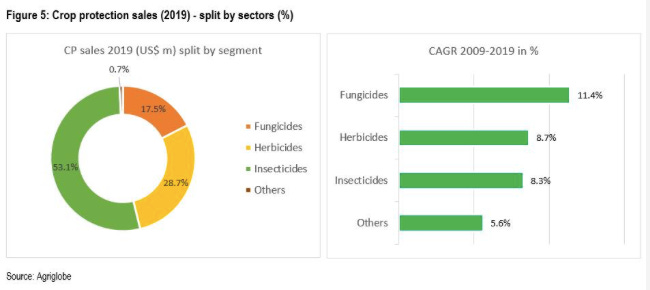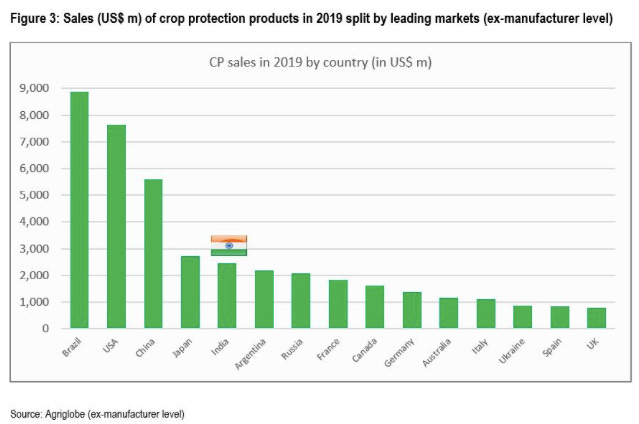 Related: U.S. Agribusiness Industry Feels Ripple Effect of Tumultuous Agrochemical Markets in China, India
Provision Analytics announced one of it's first acquisitions of a financial management system company from Alberta.
This likely is being looked at as a starting point for the Provision system to gain an understanding of what's in the bin, where it's at etc. The manual nature of this system will be a challenge that needs to be overcome, but it is an interesting acquisition nonetheless.
This is interesting technology out of Australia that can help predict harvest timing, and in the future potentially support some aspects of quality prediction.
This slide deck offers some great images and thoughts.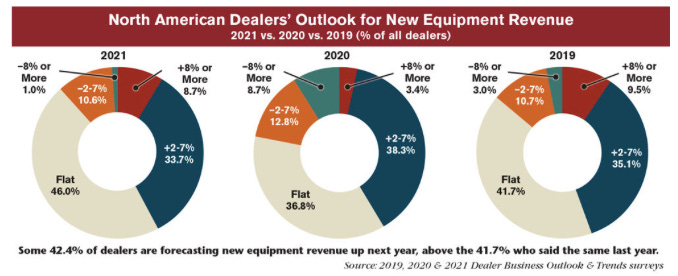 The Australian crop protection and specialty seed company Nufarm and the German ag-tech startup CROP.ZONE have entered into a cooperation agreement. The collaboration aims for launching Nufarm's and CROP.ZONE's hybrid herbicide solutions across major European markets, starting with the implementation of an early adopters program for the 2021 season in Benelux and Germany from 2021 onwards.
TeleSense provides IoT monitoring solutions that deliver an accurate view of the current and future condition of stored grain, while automating the detection and mitigation of potential issues. Its machine learning algorithms are to provide users with the smart alerts they need to effectively manage and predict grain quality, eliminate human error, ensure safety, improve operational efficiency, and increase profitability.
There is lots of potential in being able to predict quality changes along with being able to support macro trends in the industry like traceability.
The Board of Director additions were pretty significant too:
The $ 10.2 million Series B round of financing was led by existing investor Finistere Ventures. TeleSense also added Soren Wolck Schroder, former CEO of Bunge, and Mark Palmquist, CEO of United Malt and former CEO of GrainCorp, to its Board of Directors.Other Ag Articles
Other Articles
Non Ag Article
Morgan Housel lays out some of his favourite "rules" surrounding better thinking and understanding of the world.
The person who tells the most compelling story wins. Not the best idea. Just the story that catches people's attention and gets them to nod their heads.

The world is governed by probability, but people think in black and white, right or wrong – did it happen or did it not? – because it's easier.