Upstream Ag Insights - Mar 8th
March 8th, 2020
Nutrien recently released their 2019 annual report. As I have highlighted in the past, specifically in my post, The Re-Engineering of Ag Retail, I look at their strategy as being one to watch. Below you'll see some of the highlights from their annual report as it pertains to the retail arm of their business (Note: Granted one of the aspects that makes them strong globally is the integration of their entire business).
Nutrien Ag Solutions services over 500,000 customers and has >2,000 retail locations worldwide. They have over 30 locations for breeding and formulation production, with 7 facilities being specific to formulating proprietary chemistry. Almost 30% of their EBITDA comes from the retail space.
Their per store EBITDA generated is just shy of $1,000,000USD.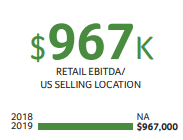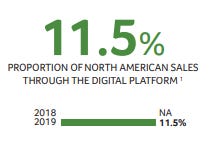 They launched their digital e-commerce strategy over a year ago with a portal for their customers to begin their purchasing journey through. In 2019 they had almost 12% go through their online portal, which is aligned with what data from the Farm Journal Survey came back in terms of farm customers interested in purchasing online. Their target is to get to >50% by 2023.
As of now, "the proportion of our products available for purchase online is 20 percent".
Their ability to strategically "merchandise" their online platform is a powerful tool, helping manage inventory, and better manage product positioning and margin erosion. They will get to a higher proportion of their products online, including things like fertilizer, but right now have started out in crop protection.
The digital deployment is intended to "serve customers more efficiently, drive down costs, reduce working capital and grow market share."
Aka decrease friction in the buying process, manage inventory, and increase sales through a more dynamic reach, better vision into the market and supply chain with their crop planning functionality (+other digital tools) and ensuring they have the correct financing in place for their customers. The ability to utilize data and be able to create dynamic pricing online based on demand, search history, previous purchases etc also is an interesting tool I believe they will look at. With their scale and distribution network, an online presence is powerful.
"Retail customers representing ~ $6.6 billion in annual sales are currently signed up on the platform. Payments made through the customer portal reached $336 million"
"We allocated approximately $1.0 billion to grow our Retail footprint and enhance our offering of higher-margin proprietary products in 2019. We expect to continue to invest heavily in this business over the next five years to expand our network in core markets"
Scale and efficient distribution are a powerful driver in Nutriens business, and they this moat can be dug deeper. I'd expect to see more robust retail facilities in strategic locations with large fertilizer storage and warehousing being initiated within Canada and the USA, further powering their scale and ability to service customers.
"Our recent acquisitions of Agrible and Waypoint enhance our ability to provide real-time sustainable solutions and agronomic advice to our customers. Sustainable agriculture will shape the strategy and direction of our company – in fact, we plan to be the leader in promoting sustainable agriculture"

One thing that I wish was in the report is same store sales growth year over year. They acquired 318 locations in 2019 or a growth of somewhere around 18%, yet their total sales went up 6% and EBITDA up 2%. I did find some info from an earnings call however:

From Mike Frank, CEO of Nutrien Retail

"on a global basis on the 12 months, we did see a 1% decline. If you look at the U.S. market, our same-store sales adjusted are up about 2%, so we actually had really strong performance in the U.S. We were down in Canada…. in Western Canada, we really lost the 4th quarter window for both herbicide application and fertilizer. And so that ended up hurting our same-store sales in Canada."

He also went on to say that their US business gained 1.5% share in crop protection YoY - a huge number that was deemed to be mainly organic growth. Gross margin contribution went up in the US 2%, and down in Canada 2%.

It appears the tariffs weren't friendly to their proprietary crop protection business as "higher cost of raw materials sourced from China" was mentioned as part of flat gross margin. Crop protection proprietary product margin contribution actually went down 3% which was the first time that occurred

Proprietary products were mentioned over a dozen times as a core focus for their retail business. The strategic foundation Nutrien laid with their proprietary product capabilities will continue to set them up for success in the future - providing better returns for shareholders and giving them negotiation leverage with suppliers, plus differentiation with customers. This gives a unique advantage, as evidenced by Porters 5 Forces Frame:

What I haven't mentioned is that their proprietary company line-up also has potential for biologicals, a space growing at an anticipated >13% CAGR and an area of emphasis for many agribusinesses (and specifically for fertilizer companies) as I've highlighted before and talk about more later.
The term "digital" was mentioned 50 times. With that, the emphasis seems to be on their digital "eco-system", including their online portal, labs, sustainability platforms etc vs. any one specific platform or product (Echelon, their precision business, was mentioned zero times).
Other: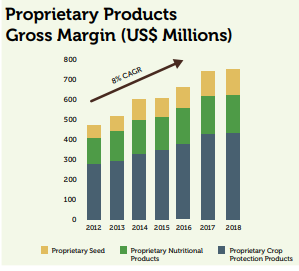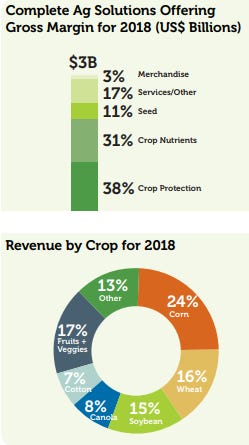 Climate FieldView/Bayer get talked about a lot on the outcome based pricing front, but as we've seen with announcements since, they aren't the only ones.
BASF will be following their lead, maybe not in terms of exact implementation, but in terms of having a unique business model for farmers to choose from. BASF is well positioned in terms of their product line to "own the acre" across many geographies in Canada and North America (stack all their products on an acre), and as xarvio gets built out further in North America they will have a tool to support that implementation. Xarvio has numerous partnerships, for example through Arable, which will feed their ability to make informed recommendations and other new digital products that others can't.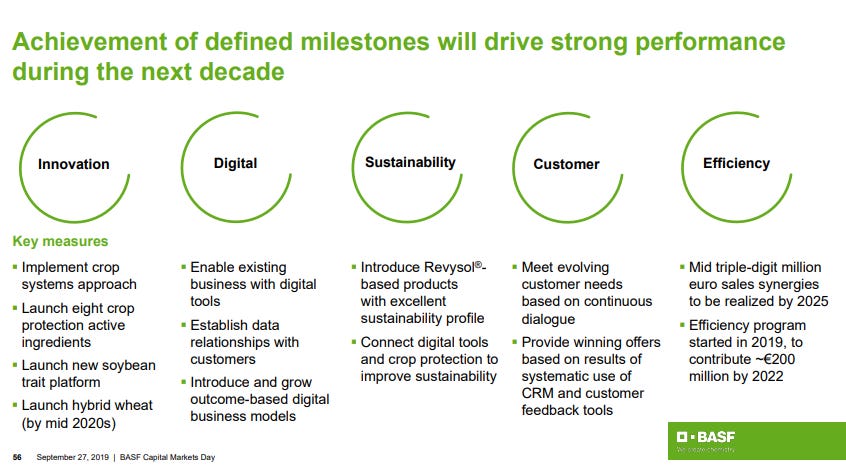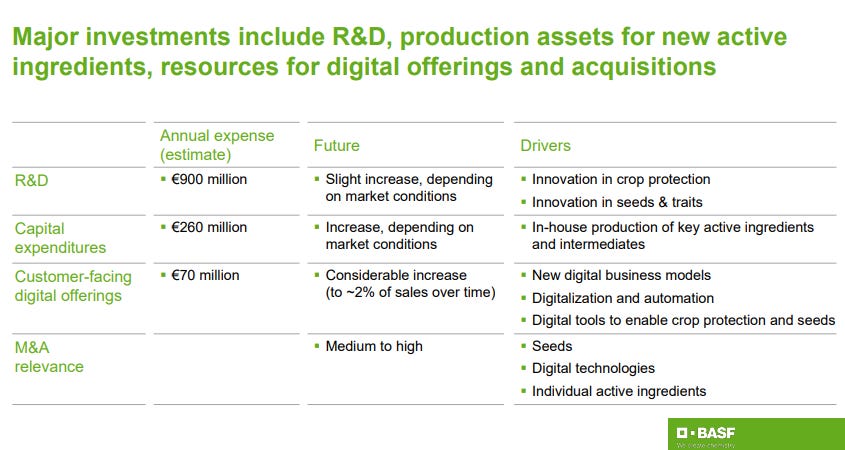 More on the models in the future. On another note from the slide deck is R&D expenditure:
BASF Ag allocates 12% of annual revenue to Research and Development. This is similar to Syngenta who hover around 10.5%, Bayer is around 13% and Corteva who is just under 10%. (Note: Not including capex, M&A etc - just R&D allocation). BASF and Corteva both are allocating <10% of their R&D to digital initiatives, while I couldn't pin down numbers for Bayer and Syngenta.
To put into context with a generic company, ADAMA allocates <2% of annual revenues to R&D. Where they spend those dollars changes too; ADAMA spends a disproportionate amount on formulation enhancements, the real areas generics attempt to add value.
The future of crop scouting will start with digital technology. The capabilities through sensors and imagery capturing tech is going to revolutionize the role of the agronomist and the farmer. Imagery and sensors will be able to rapidly and accurately assess disease, insects and weeds with future ability to suggest products.
What needs to be considered:
We hear a lot about voice search in the consumer space and how that will change the way companies market to consumers vs. retail shelf space or Google/Amazon search bars. Now, think about this from a product recommendation perspective in the future of agriculture. Today, organizations educate, market to and position their products in front of farmers, agronomists, sales people, retail staff etc so they are top of mind. When the dynamics shift and the "gate keeper" starts with sensors and AI, that shifts the fundamentals of marketing, positioning and emphasis of strategic initiatives in a powerful way. This is one reason why large agribusinesses are focused on getting their digital tools on farm; it ensures they can be "at the gate" and able to influence. This will be where a lot of competition will occur in the crop input space in the future.
Understanding data in farming and agribusiness can be intimidating. But, it doesn't need to be complicated. Scott Speck has come up with an excellent framework in which to think about data.
Volume

Velocity

Variety

Veracity
The dynamics behind each are worth reading and understanding.
There is some great insight in this post from UPL CTO Adrian Percy.
Do your homework

Understand long-held biases

Prove it

Get creative about financing
Related: 4 Tips For How Agri Corporates Can Innovate By Working With Startups
"Farmobile received a patent for the blockchain technology it's developed to help farmers keep track of who's accessed their data and when"
Farmobile collects data through their passive up link connection (PUC) in equipment, and stores this data in the cloud specifically for farmers. Farmobile enables farmers to be able to sell their data to 3rd parties through the Farmobile DataStore, a market place for farm data where farmers data is listed and seed companies, chemical manufacturers, retails or otherwise can purchase the data.
"Think of it like a virtual financial ledger that has a series of rules around how people use it," company CTO Chris Schibi adds. "In our case, a grower logs in to the DataStore and goes to a screen that shows all the orders he or she has had to view his or her harvest data. By clicking another button, he or she can see which orders he or she approved and disapproved and where the data went, such as an ag retailer or a seed company."
Related: Trust is the New Currency in Agriculture
Great layout from Walt Duflock who's associated with THRIVE Agtech.
Have data discussions early

Work the data collection into the MVP definition

Help the sales team have productive conversations with existing customers.

When in doubt about how fast to move — go slower than you would like

Figure out what is in it for the farmer
Background on the building of digital platform company, 30MHz.
"We were just looking for a solution for our technology—exactly the thing everyone says you shouldn't do"
This puts Semios at over $100 million in capital injection over the last few weeks. I wrote more on them and their business in the February 23rd update.
"This partnership allows our representatives to work more closely with growers and use advanced analytics and predictive intelligence to provide specific recommendations for each field—from selecting the right crop protection products to determining the right rates to apply to each zone of a field to maximize yield potential."
This is the second country that Farmers Edge and Nufarm have a partnership in, the first being Australia. I talk a lot about digital infrastructure for organizations in ag, and it is difficult to build robust tools in house, so these strategic partnerships can be a significant boost. Looking at other organizations that don't have the scale of the big 4, following the Nufarm partnership approach makes a lot of sense - ADAMA has gone down a similar path in some countries.
Related: Lindsay Corp., Farmers Edge Partner in Integration and Our 'Amazon Moment' (I recommend checking out Farmers Edge CEO Wade Barnes commentary in this one) and Nufarm Gets Regulatory Clearance For Sale Of Nufarm Brazil
(*I am employed by Farmers Edge)
This announcement, DataConnect, was first launched at Agritechnica in November. For the farmer this has some positives in terms of decreasing issues with connectivity across mixed fleets; from a manufacturer perspective I will be watching closely the strategic implications of this for these organizations.
Related: Telematics Offers Value to Owners
Some highlights from this very informative crop protection/seed overview:
"Developing and selling agricultural chemicals, major agrochemical companies have focused on genetically modified (GM) seeds, and this newer sector has grown to account for a considerable proportion of their total sales"

"While the crop protection market displayed a growth rate of 3.8% from 2001 to 2016, the market for GM seeds developed and sold by major agrochemical companies achieved a growth rate of 13.3%, around 3x higher than that of the crop protection market"

Below is a breakdown of the increasing costs of producing a viable crop protection product; a 53% increase over the course of 20 yrs.

The chart below shows the opportunity in biostimulants and emphasis to breed higher abiotic stress tolerance into crops (more on biostimulants in the next story), part of why that's been such a big emphasis for agribusiness and venture capital over the last decade:

Check out the link for more background on agribusiness research and investment.
"The only place in the USA where there are B2B unicorns is in the agriculture space"
Alex Moazed, Platform Business Model expert and author of Modern Monopolies, talks market places - FBN, Indigo and challenges in creating a B2B market place.
Relevant Video - 10:25 to 16:00 min marks.
This partnership today is focused on the high end crops in California using tough to mix with calcium nitrate based products (although more crops than high value have a fit for calcium nitrate).
This partnership should evolve further. FB Sciences is a leader in the biological space, with strong products and active ingredients that fall under the humic acid umbrella with their polymeric polyhydroxy acid (Transit) product. As I highlighted in the February 9th Upstream edition, Yara is very focused on growing in the specialty product space, that includes biostimulants. There are numerous types of "biostimulants" out there: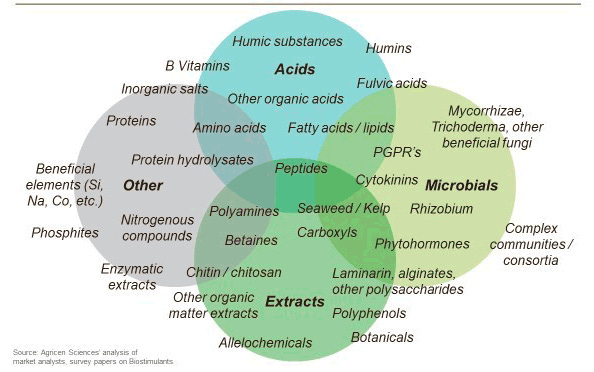 Yara's biological products currently have an emphasis on the "extracts" area - seaweed based products. Where as this partnership with FB Sciences can enable them to access strong actives in the "acids" segment, and just like various herbicide groups perform differently than one another, it's the same for biostimulant groups. Extracts are stronger in some areas, humates are stronger in others. There is power in combining them in products plus combining with targeted nutrients as well.
When you look at the image showing yield reduction due to abiotic stresses in the previous story, you can see one reason why there is a focus on this sort of partnership and it will further enable Yara to address abiotic stress mitigation in an a more meaningful way.
Related: Why Micronutrients Might Be Generating More Revenue for Ag Retailers Than You Think
Syngenta is launching over 30 new corn and soybean varieties for the USA in 2021. What grabbed my attention at the end though was this:
"The NK Seed Analyzer, a tool that taps into decades of data to provide unbiased, field-specific recommendations. The adaptability of the platform allows retailers and farmers to proactively plan for weather volatility, soil variability and planting specifications by seeing actual results from numerous sources"
This tools capabilities compared to that of other competitors will be something to dig into as well as how it may be used in conjunction with AgriClime.
Related: How Coronavirus Could Affect NPK Prices
Other Relevant Ag Stories
15 Minutes with Kip Pendleton of Legacy Seed Companies - Global Ag Investing
Drone Spraying Takes Off as Regulations Relax Worldwide - Future Farming
BASF, AGCO Join Forces to Enhance Operation Weed Eradication - Crop Life
Bayer's Top Seed Faces U.S. Soybean Challenge from Corteva - Reuters
Topcon Agriculture, CropZilla Form Data Sharing Partnership - Crop Life
Farmers Fight John Deere Over Who Gets to Fix an $800,000 Tractor - Bloomberg
Digital Supercluster Backs Precision Fungicide Development - Ag Canada
Non-Ag Article
Ryan Holiday is a best selling author and a very well read individual. Check out his take on timeless lessons of leadership.