Upstream Ag Insights - June 21st
Essential news and analysis for agribusiness leaders for the week of June 21st, 2020
BASF is a large organization with segments in nutrition, materials, chemicals and more beyond agriculture. They actually have 7 business segments and agricultural solutions is 5th out of the 7 in terms of total revenue at 13%. Margins are stronger in ag though versus others as they contribute 18% of EBIDTA margins. Part of that is thanks to their other divisions: 25% of their ag raw materials come from other BASF business segments!
BASF is currently the 3rd largest agrochemical manufacturer by sales volume for the 3rd straight year, trailing 2nd place Bayer Cropscience and ahead of Corteva in 4th.

33% of their sales are made up of herbicides globally, the biggest portion of their crop protection business. Fungicides fall in a close 2nd at 30%:

As a percentage of sales, BASF is one of the highest investors in R&D out of the big 4 agrochem and seed companies:
In 2019, we invested €879 million in research and development in the Agricultural Solutions division, representing around 11% of sales for the segment
Bayer is around 11%, Corteva at 8%, Syngenta around 9% and FMC at 7%.
The agricultural solutions division captures almost 40% of the R&D expenditures in the entire organization. This is similar to an organization like Bayer (who is approx ~43%).
2019 was their first full year since acquiring the Bayer assets, giving them a more robust exposure to the seed market globally, growing from 300mill euro's in 2018 to almost 1.5 billion euro's in 2019:
The seed businesses comprise traits, research and breeding capabilities as well as the corresponding brands for key field crops in selected markets. These include canola hybrids in North America under the InVigor® brand with LibertyLink® trait technology, as well as the oilseed rape business mainly in European markets, cotton in the Americas and Europe, and soybean in the Americas. We also acquired the R&D platform for hybrid wheat.
In canola they had over 55% market share in North American canola markets in 2018, and ~60% in 2019, thanks in large part to superior yielding genetics and proprietary Pod Shatter Reduction for harvest management. This strength in canola enables creates a significant fly wheel for their business creating a massive opportunity in these markets (specifically Canada) to drive the entirety of their portfolio and launch new products into the market place with confidence thanks to marketing programs and enhanced retail and farmer engagement. Not to mention helps them execute on their target of integrating themselves stronger into the farmers business and tying this together with digital tools and products (more later).
One note on seed is that the seed business is higher margin for them than crop protection, the opposite of Corteva who's operating margin is higher in crop protection.
The acquisition also gave their North American business a higher percentage of their business, jumping from 35% in 2018 to 40% in 2019 and Europe taking a 6% drop from 33% in 2018, to 27% in 2019.
Given the challenges with dicamba this season, there will be some struggles in maintaining the same level of sales in NA.

The report overviews a number of insecticides being launched in coming years. I have touched on FMC's reliance on insecticides currently and BASF has a number more coming out like broflanilide; not to mention their insecticide growth year over year was strong at almost 20%.
BASF will also apply precision technologies and digitalization to seize future innovation opportunities in agriculture. This includes new, outcome-based business models marketed under the xarvio® brand. These will enable farmers to achieve yield forecasts that have been agreed in advance.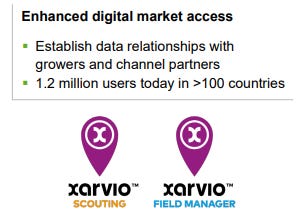 Plus new business models: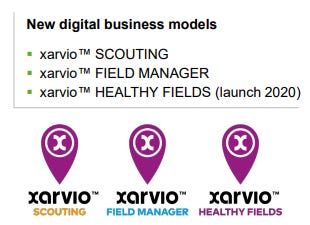 Outcome based products have had a lot of hype. Delivering on these models does numerous things for BASF (and other manufacturers/retails) and farmers:
decreases the risk for the farm customer to try new product (increase sales)

eases innovations into the market for manufacturers like BASF (faster uptake of innovation)

ties together numerous products together ("solutions")

obtain a closer relationship with the farmer (priority for many businesses)

more data to progress products in the future

delivers benefits to consumers/food companies looking to see less inputs used and understanding where they were used
They will need retails to deliver on this too - whether through product distribution, education or even supporting the usage of their digital tools to better train their models within xarvio. They currently have a relationship with Nutrien Ag Solutions.
The question will be, do farmers want to utilize outcome based products? Or would they prefer to obtain their risk mitigation in other, less bundled together ways (bundle being digital tools + physical products + services)? Like future parametric weather insurance products for example.
"Digital" showed up 80 times in their report. They emphasized it specifically when it comes to their breeding and R&D platforms too - a significant opportunity for data and digital tools that I know I do not talk about nearly enough.
Their pipeline is very strong as well:
With a peak sales potential of more than €7.5 billion, our pipeline includes innovations from all business areas. More than 30 pipeline products will be launched worldwide by 2029.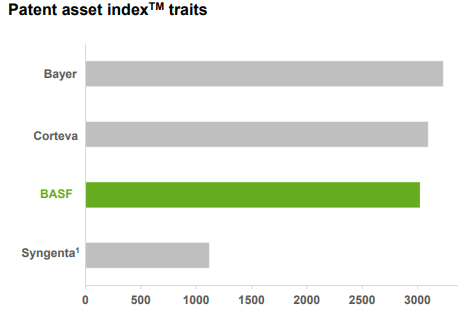 One area that came up was sustainability and GHG reduction. They have already built out a cotton sustainability program for growers in the USA - if you think the food industry emphasizes sustainability, check out a fashion business website on any given day: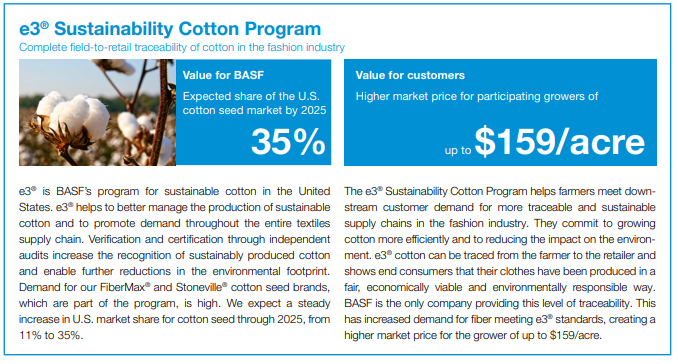 These sustainability initiatives will require a data base to capture and verify information related to production. This fits xarvio in the initiative in that context, but also fits it in in terms of managing crop protection applications, such as variable rate applications. Then there is also two other product segments that fit in: their biological segment as well as their nitrogen stabilizers. Both of these fulfill the demand for GHG reductions.
BASF has a venture portfolio, just like Bayer and Syngenta, amongst others. But what does their portfolio look like?
A few highlights:
Hummingbird Technologies
An Artificial Intelligence business that provides advanced crop analytics to its customers by using proprietary Machine Learning algorithms applied to remote sensing captured imagery.

Our expertise allows our customers: to increase their yields, optimize chemical inputs, farm more sustainably and make earlier, more informed decisions.

By pushing the boundaries of science and technology, our mission is to improve the efficiency of global crop production, and to feed the world's growing population sustainably.
Hummingbird is a company from the UK that has been rapidly expanding across the globe. Their Series B is where BASF got into the company, along with Canadian telecom company TELUS. They joined other investors like Saudi Agricultural and Livestock Investment Company (SALIC) and the British investment firm Downing Ventures.
Equinom
Equinom was founded in 2012 by Gil Shalev who realized that by utilizing genomic sequencing breakthroughs, he could develop a technology that would revolutionize seed and legume design, enabling AgTech to achieve unprecedented goals: to breed new, highly strategic varieties in a fraction of the time with newfound accuracy. The company has developed high-yield, shatter-resistant sesame, and has become the world's largest provider – with farms in the USA, Australia and Europe. Concurrently, Equinom is breeding super trait plant protein – sustainable, reliable and healthy legumes for alternative proteins.
Provivi
Provivi is developing a family of safe, effective, and economical pheromone solutions for crop protection. Pheromones are substances that serve as highly selective attractants for insects, allowing the control of deleterious pests while preserving beneficial insects. Provivi's patented production method enables a step change in the cost of manufacturing pheromones, allowing use of this proven tool in high-acreage crops such as corn, rice, and soy.
They are also invested in agtech funds like SP Ventures to support their investments in Brazil and Omnivore based in India.
Crop Tour season is upon us. With this year being different than ever before we are going to see a unique spin on crop tours.
I see huge opportunity in this for the organizations looking to be creative and push the envelope.
I wrote a short post on three areas I see the biggest opportunity.
This is a good overview from AgVend when it comes to retail options in creating a digital experience to support their customer base:
As an ag retailer, you essentially have three options:

Build a digital solution internally (read more about that here)

Partner with a third-party technology provider to develop your online strategy

Ignore the evolution in the industry and the changing needs of your customers
I do have to suggest that there is a sub category of with #2. You can partner with a group that is ensuring you are the focal point within that relationship and being the brand and the organization that guides that farmer along, or you can be associated with a marketplace where the focal point of that relationship changes - emphasis towards the app name vs. retail name.
There are pro's and con's to each and will dive deeper at some point. It is pertinent to understand the 2nd and 3rd order implications of each choice over the course of a 2-5 year time horizon and what this looks like for your retail business and relationship with your customers. Your strategy as a retailer plays significantly into it. Choosing accordingly is important.
Related: The Upside of COVID-19's Long Shadow in Agriculture and Why People are Still the Biggest Assets in Your Digital Commerce Strategy
Compelling perspective and commentary from Sarah Mock about ag media on The Future of Agriculture Podcast from Tim Hammerich. They touch on cultural norms in ag, the business models (incentives) that influence ag media and encourage individuals to create content that brings a unique perspective into the world.
Well worth the listen.
In 2014 I remember being excited about drones. By 2016 I had all but written them off due to the manual and time draining challenges of them. On top of this they can shortcomings in timeliness (getting information when needed) with increased labour costs and difficulties obtaining the data from them.
Over the last 6 months I have come to realize I didn't give enough credit to human ingenuity and Moores Law. I am continually finding myself more interested in the capabilities of them over the last 6 months as an ancillary tool. This has stemmed from 4 main things:
Data Processing
The capability to process data in a much quicker fashion now makes increases drone potential. Not that long ago you would have to manually take the data from the drone, or connect it to get the data loaded to the computer or the cloud then wait for the maps or images. A significant sticking point for many. Now within 10 minutes of flying the field you can have high resolution images and maps and even insights such as disease or insect diagnoses.
Autonomy
Today drones are very manual. Whether it's getting the drone to the field, charging the battery, processing the data or flying the drone. But there is work being done to automate ALL of that. Flying, charging, processing - all ran from your phone or laptop by uploading files and route creation. As this technology becomes cheaper and more accessible, there will be significant potential for drones.
Camera Technology (article)
When looking at the new technology coming up in satellite imagery, it further instills confidence that drones can be more useful in the future. Granted increases in imagery capabilities benefit satellites too, the high resolution of drones can allow for a deeper diagnoses of crop health, and prediction of crop stress, through ML/AI capabilities applied to the imagery. Imagine being able proactively mitigate abiotic stresses while being able to quantify the liklihood of them arising? The intersection of drones, imagery and biostimulants and better outcomes for farmers.
This still takes time, data and ground truthing, but is being worked on successfully by many companies today:
"With more spectral bands you have more possibilities for identifying spectral responses of a specific disease, a higher chance of success for researchers or analytics companies wanting to identify not just weeds versus crops, but specific species of weeds versus crops,"
Spray Regulations
In parts of Asia we are seeing significantly higher uptake of drone technology for spraying. In North America the size is prohibitive of rapid uptake, but so are the regulations. The knowledge of how to use drones to spray is growing, as is the use cases (ancillary to larger spray units). But there still lacks the progress in regulation. As more companies are focused on this and larger organizations like retails and manufacturers see the opportunity, there may be some more push to progress the regulations along.
Drones are superior for getting to tight places and offering higher resolution insights. Sometimes this is needed and sometimes it's overkill, depending on the cost and value derived. As we begin to manage more in depth at the farm level, these features may be of benefit.
I am still hesitant to say I'd prefer drones over satellite imagery or prefer them over a traditional sprayer, but I do see a nice fit for them as an ancillary tool for farmers to use in conjunction with these more scalable pieces of equipment and technologies. A recent report states that the market has significant growth opportunities:
Drones in Agriculture Worth More than $5 Billion by 2025
Other Drone Related News this Week
Rantizo Expands Drone Application Network for 2020 Season - AgWeb
Draganfly and MicaSense Partner on Agricultural Package for Top Tier Imaging and Data Integrity - Agritech Tomorrow
Scouting in High Resolution: How Integrated Ag Services Is Taking the Next Step in Crop Monitoring - CropLife
Why the World's Largest Beer Company is Investing in Agtech - AgFunder
There is constantly talk about connectivity for farms and the industry to be able to take advantage of all the technology in the space. While telecommunication and cable organizations are talking about getting 5G in rural geographies, the reality of it being reliable in the country side in the next 5 years could be a challenge.
Space X however just launched satellites to enable 5G throughout North America. Will this be the answer? Whether we are simply talking basic internet needs of rural families or the needs of farms to deploy the newest technological advancements, it's worth paying attention to.
This is a smart move from FBN. It creates a strong pull into their funnel to access new farmer leads to bring into their membership program by enticing them with one of the most compelling offerings in the FBN business: crop input price comparison.
FBN marketing focuses around low prices for farmers and this gives farmers a free preview.
This move indicates to me they are confident they can convert a high number of leads into paying memberships, which ultimately will utilize not just the FBN Direct (crop input purchasing) offering, but get into their other revenue generating offerings that come with membership.
This begins to impact manufacturers: Even though this primarily impacts the retailers pricing, it drives challenges for manufacturers too and their SRP/programming in the market place.
I am curious as to the timing - it seems late to me. Whether it was being mulled over or just decided lately - it would have had more impact for FBN across most of North America if it has been launched 8 weeks ago.
FBN as of my last hearing has 11,500 members touching ~38 million acres in North America, with what I expect to be an announcement surrounding expansion to other jurisdiction in the coming months (purely speculative).
Syngenta has one of the largest portfolio's of regionally strong digital platforms and solutions. This new one is called Cropwise.
The digital ag tools being launched in Brazil include software and satellite imaging of crops, he said. They are intended to drive yields, save costs and promote sustainable farming in the world's largest grower and exporter of soybeans.

Later this year the platform will be available in the United States, Russia and Ukraine

Globally, farmers use Syngenta digital technology to monitor 32 million hectares
That's a meaningful amount of acres, primarily driven through digital platform acquisitions. The linked article states that Climate Fieldview is only on 4 million more hectares (~10M acres) than all of Syngenta's offerings.
In May, the use of Syngenta's digital offerings such as satellite photos to check field conditions increased by 400% in Brazil
COVID-19 continues to show it's driving digital adoption. The one thing I continually am attempting to consider is, what's next? Where are the opportunities for organizations in agriculture now that we are seeing these kinds of uptake in such a short period of time?
Satya Nadella famously said this 2 months ago:
"We've seen two years' worth of digital transformation in two months. From remote teamwork and learning, to sales and customer service, to critical cloud infrastructure and security—we are working alongside customers every day to help them adapt and stay open for business in a world of remote everything."
I think it might even be MORE than 2 two years now.
The overall outlay of what Cropwise is is very vague. Whether this is a roll up and combination of Stryder, Cropio etc or entirely separate is not made clear.
I've talked about the Syngenta opportunity to integrate their digital tools here before.
Related: Syngenta Restructures, Rebrands, and Relaunches
Joining the likes of large commodity handlers in Bunge, ADM and Cargill, LDC is launching their venture fund later this year:
Over the coming months, we will invest in early-stage companies with the potential to transform the food and agriculture industries
Corporate Venture is becoming more common amongst large incumbent organizations. For more on corporate venture strategy, check out Upstream from May 31st.
Indigo Ag was #1 on this list last year. This year they are placed at #3.
The company's focus on technology as a tool to reimagine agriculture is wildly appealing to investors. In January it closed $200 million in financing, bringing its total funding to $850 million. 
Gingko Bioworks, a company that genetically modifies microbes and has a JV with Bayer Cropscience (Joyn Bio) was also on the list.
Some (assumed) fallout of the dicamba debacle.
Barley Trail lager, a fully traceable beer packaged with a QR code created by Grain Discovery, that once scanned from a mobile device, provides consumers with a complete storyline of its journey from field to glass.
The page that comes up when scanned is worth checking out too, seen here.
Related: Virtual AgTech Directory - AgSmart Olds College
Other Ag Articles
Cutting-Edge Seeding, Next-Gen Breeding - Germination
Digital Ag: Why is Predicting Return on Investment per Field So Hard? - AgFunder
Create Balance Between Precision Hardware Sales & Agronomic Service - Precision Farm Dealer
How High Tech Is Transforming One of the Oldest Jobs: Farming - The New York Times
TechAccel Subsidiary RNAissance Acquires RNAgri - AgFunder
FarmCommand Now Available Across All ISOBUS-Enabled Monitors - CropLife
Farmers Edge and Palliser Insurance Partner to Connect Canadian Growers with Premium Crop Monitoring and Risk Management Solutions - Financial Post
Calgary Startup Program Launches Agriculture Stream - Creative Destruction Lab
Non Ag Article
Ryan Holiday is one of my favorite authors and writers and this post by him provides some exceptional thoughts and concepts from many influential people, both living and dead, from around the globe.
Competition is for losers.

Whenever you feel like criticizing any one, just remember that all the people in this world haven't had the advantages that you've had.

It's about the opportunities that you'll learn the most from. That's the rubric. That's how you get better. People sometimes try to sweeten speaking offers by mentioning how glamorous the location is, or how much fun it will be. I'd be more impressed if they told me I was going to have a conversation that was going to blow my mind.