Upstream Bonus Edition: 2020 AgFunder Farm Tech Report
Highlights from the AgFunder Farm Tech Report, assessment of marketplace fundamentals in agriculture, M&A perspective and commentary on remote sensing.
Welcome to a bonus edition of Upstream Ag Insights!
I wanted to do a more elaborate overview of the Farm Tech report in Upstream this past week, however, room was tight. With this being a report that overviews the areas that are core to Upstream (the name "Upstream" comes from the focus of the newsletter on agribusinesses upstream from consumer and often even the farm) I thought I'd do a bonus edition.
I highly recommend downloading the report in the title link.
Let me know what your key take a ways were by responding to this email or reaching out to me at any of the links located here:
---
"Investment in Farm Tech startups has grown consistently since 2013; 370% to be exact"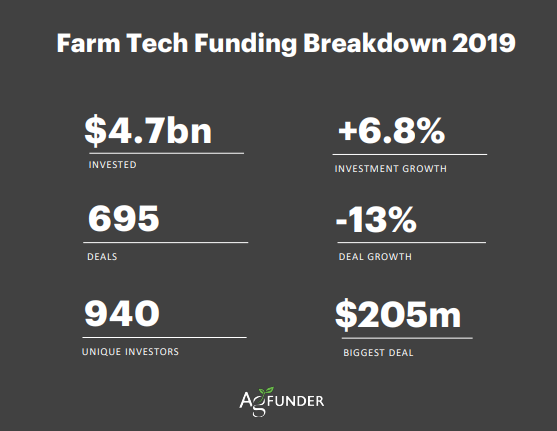 "In 2019, Farm Tech startups raised $4.7 billion, a 6.8% year over-year growth, bucking the trend in global VC across sectors where investment dropped 16%, according to the Venture Pulse report."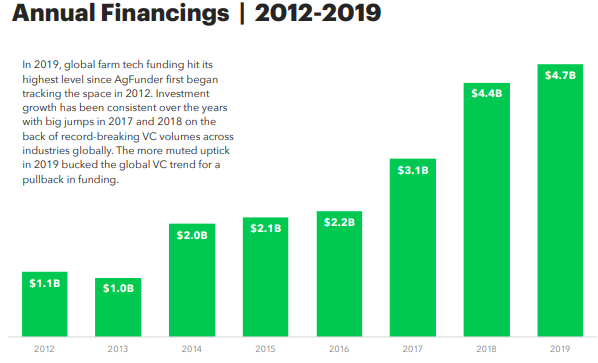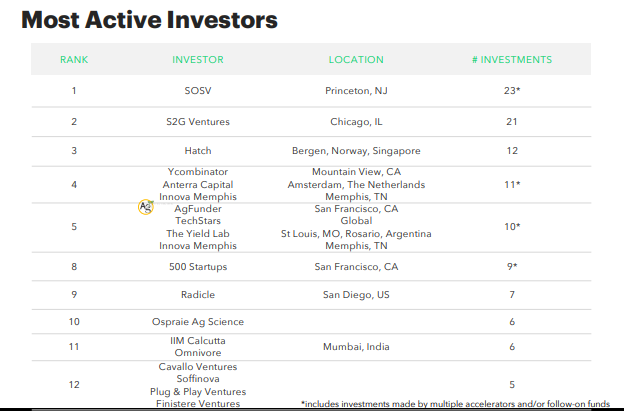 "While Canada saw a drop in both the number of deals and volume, North America overall clocked a 17% year on-year rise in total funding value to $3.04 billion from $2.6 billion"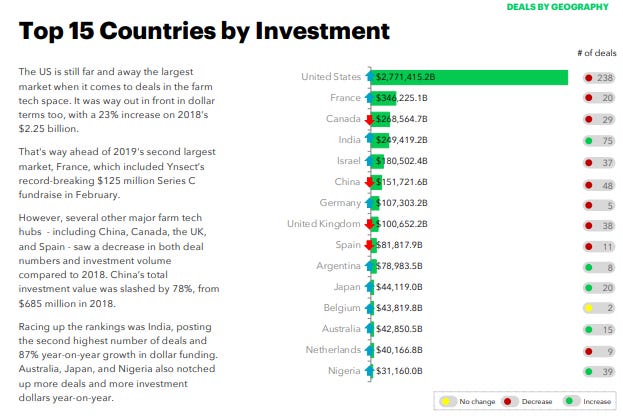 "Eleven deals over $100 million contributed $1.5 billion to the total as some startups broke fundraising records"
"While we expect investment to drop in 2020 with the economic fallout of Covid-19, some farm tech categories could become more attractive to investors"
Marketplace Dynamics and Farming
I anticipate that marketplace interest will continue to rise in 2020 and beyond. However, the success of market places in North America, specifically focusing on crop input businesses and grain origination, can be attained, but it wont come easy. I'll go through some of the reasons why.
There is a lot of buzz in the market place space when it comes to enabling farmers to go direct to the consumer, a great place for a platform marketplace. But in the business to farmer side of things, specifically around farmer selling grains to food companies or crop input provider to farmer, I want to explore there.
The marketplace category in the report shows relatively high investments because of the large players like NinjaCart and Produce Pay that make the total investment in that category large, however, the average size of the other deals is actually quite small. This leads me to believe there is a long-ish tail of market places, meaning a significant number of early stage groups looking to build out a business focused on facilitating transactions.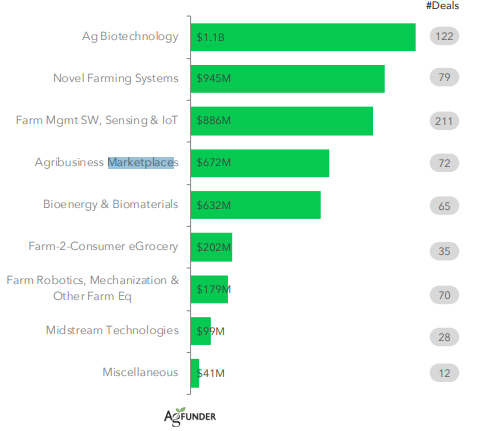 What I want to focus on is market place potential on the crop input supply side of farming - is a virtual marketplace where a company could get crop input manufacturers, fertilizer manufacturers, seed companies or even retailers all to come directly onto a site, post their products where farmers could view and transact?
Additionally, on the grain origination side of the business - where companies such a General Mills or Cargill etc all came onto a platform looking for specific quality of grain and purchase directly from the farmer without having to have as many grain buyers, merchants etc continually looking for the commodities.
What Makes Marketplaces Thrive?
A true marketplace needs the pull of both the consumer and supplier side of the market. Aggregating suppliers is necessary, but insufficient on its own. You must also aggregate demand. And within this, you must also provide economic advantages to both sides (decrease search costs for one business selling, better price for buyer).
This means there needs to be a fragmented market, something we do not have in ag (more on this later). There is only a handful of crop input providers and grain buyers (although this changes slightly in the USA).
But what else?
When building a marketplace, companies strive for the holy grail:
High frequency - Customers purchasing often

High retention - Sticky and customers want to use the service
3. High transaction values - High merchandise value
If we are talking specifically ag companies in the grain and crop inputs space, they only check off one aspect of the holy grail: high transaction values.
An interesting framework is Bill Gurley's "promiscuous" vs. "monogamous" businesses - monogamous would be like your dentist, you rarely switch and promiscuous might be like a gas station, you go for what's convenient. The more monogamous a business is, the harder it is to build a marketplace out of. I think ag retail and grain tends to be somewhere in the middle. Typically not complete exclusivity, but things like physical location and switching costs such as credit make it harder to go wherever (some of this is changing though!).
Lets now look at another framework from Bill Gurley where he lists 10 components to assess whether a market place has the potential to be successful or not.
New Experience vs. the Status Quo - A good market places enhances the experience of the customer.

This is something an ag marketplace platform could do and some do today. It could be tools to assess the market, compare prices, or streamline the efficiency of the transaction (make immediate) as a few examples.

Economic Advantages vs. the Status Quo - This means decreased transactions costs or search costs for one party and a better price for the customer.

A marketplace could give ag retailers a more inexpensive business model (lower overhead) and decrease the average cost paid by the farmer looking for inputs.

Opportunity for Technology to Add Value - This means the customer has an increased level of data to be able to make a decision, assess the market or manage work flow

Market places could build out on the grain side of things components of proof of credit, smart contracts or even connect to in field sensors for crop input providers or become the hub for crop input invoices.

High Fragmentation - A large number of sellers and a large number of buyers increases the likelihood of success in marketplace businesses. That's why we see lots of focus on food delivery service platforms and on marketplaces like NinjaCart; there are a huge amount of farmers and consumers, which means heavy inconvenience (search and transaction costs) to connect. This is one of the most significant points in assessing whether a marketplace is going to be viable. Without fragmentation there isn't a lot of need from that side of the marketplace and they typically have the power to do what they want.

We do not see much fragmentation in ag. Consolidation has been significant on the manufacturer and grain origination side, while even on the farmer side the same has been true. There are only a handful of main manufacturers and suppliers meaning the fragmentation on the supply side is low.

Friction of Supplier Sign-Up - This is how difficult it is to get suppliers (crop input providers and grain origination companies) to sign up.

This friction would be dependent on the company and the marketplace. It likely would be a challenge initially due to fear of change or uncertainty of what the process would entail for their future business prospects.

Size of the Market Opportunity - Total addressable market.

The market size is huge in North America in terms of dollars, well into the tens of billions on both ends of the market. There also are hundreds of thousands of farmers in Canada and millions in the USA. With that said, the portion of farms producing the most and spending the most would likely fall in and around 400,000 farmers (~2.2M farmers in NA with 80/20 rule applied).

Expand the Market - Can the market grow?

I would't anticipate either market to grow by having a marketplace associated with it. There is always the opportunity to bring even more dollars of the total market onto the marketplace, but if you look at Uber or AirBnB as marketplaces for example, they actually increased the willingness of travelers or commuters to use their service vs. the alternative (hotels and taxi cabs) and expanded the expenditure in those markets. This likely doesn't occur in ag.

Frequency - All things being equal, the more use, the better. For example, AirBnB would be considered low frequency, where as Uber would be higher frequency.

In ag, theoretically it could be a high frequency, say numerous times per month in season, but it also could be as simple as a one time transaction for crop inputs on the year (purchase entire crop plan) and there could be a few associated with the grain side of the business. This probably lands in the "moderate" use for both examples.

Payment Flow  - All things being equal, being part of the payment flow is superior to not being a part of the payment flow. This is due to the fact that it is easier to extract value when you are in the flow of payment. The supplier not only looks to the customer as a provider of revenue, but they receive that revenue "net of the fee." Contrast this with a marketplace where you add value first, and then send a bill to the supplier at later date for services rendered.

In ag there are ways to be associated with the payment flow, specifically in the grain side of the business being able to facilitate and streamline that. With that said, "leakage" could be a significant challenge in the grain side for ill equipped grain market places.

Network Effects - Hard to describe, but essentially, does one additional user on the marketplace make the marketplace better for the entirety of the other users on the platform?

There are some light network effects. Since there is not much for fragmentation on one side of the business, the network effects aren't as significant.
No marketplace will get a 10/10, the best ones will get a 7-8/10 and if you are scoring around 3-4/10, building a successful marketplace can be a challenge.
This would need to be gone through very explicitly to be more accurate, but when I broadly generalize, I get somewhere around a 5/10 for the examples of crop inputs and grain, keeping in mind one of the most important aspects not being one of the 5 (fragmented market).
But there is even more.
Captive Networks
Captive demand, a necessary but not sufficient condition is "disincentive or inability to conduct price comparison", because when the product can be easily price-compared, consumers/farmers inherently try to use competing platforms to get the best deal. This means we would tend to exclude e-commerce businesses from the list (like an online inputs marketplace).
There are also ways that "captive supply" can be created, one example:
Exclusive suppliers - there are certain verticals in which the dominant platforms can coerce suppliers into not selling on competing platforms. This might mean specific products or brands selling through the platform and no where else. Would we ever see this in ag? This begins to change the viability of a marketplace if we do.
Marketplace Summary
When you sum all of these up it says to me a successful marketplace is possible in North American farm supplies and grain handling, but the general market place dynamics aren't in their favour.
Without the fragmentation a successful marketplace can be difficult to achieve, but if you look at what organizations that are creating marketplaces in crop inputs and grain are doing is focusing first and foremost on a niche in the system. By that I mean, they are focusing on being very good at one specific area that enables them to build their audience and understanding of the space, from there positioning themselves to grow and evolve. For a platform like Bushel it is supporting the digital infrastructure for grain organizations and for AgVend they are very much doing the same on the crop input side of the business. Whether these organizations want to eventually evolve to become a marketplace is an entirely different question.
Two-sided market places aren't easy to build. The aggregation of demand is a challenge to build up and something that not many have in North American agriculture today. To top it off, selling in a more B2B functioning market creates challenges since there isn't the same sort of "casual consumption" of product (more analysis and needs based in farming), trust is already established in many scenario's and payment processing and functionality is already in place. These are core issues that marketplaces typically solve for, but aren't as big of challenges within ag. With that said, there are some issues within ag that these marketplaces do solve for such as price transparency and convenience (eg: speed of payment in grain setting).
I think we will see marketplace organizations in the ag space in North America in the future, but we will see them with a unique farming twist through the integration of and alliance between organizations or go-to-market strategy shifts from already large organizations that have pent up aggregated demand on their end. I'll be interested to watch organizations like AgVend and FarmLead (Combyne) to see how their offerings evolve in the market. Even organizations like FBN, who today are linear in business model, but upon acquiring enough demand and a few other tweaks, could begin to shift in a platform in the future.
Farm Management Software, Sensing & IoT
"Farm Management Software, Sensing & IoT continues to be the most active category in farm tech by number of deals. Arguably this category propelled agtech into the venture capital spotlight; But as sensor-based technology proliferates globally, other countries are catching up to the US in this category – for example, some 28% of deals in the category took place in Asia, most of them at Seed stage."
The growth in this category I expect to continue, while the investment may slow in 2020 due to COVID, the value of remote sensing will not slow down for either farmers or agribusiness.
Sensors continue to have opportunity on farms. They continue to decrease in cost and the ability to connect the data to the cloud, process and analyze that data through technology like edge computing, will bring massive value to farmers in the future. There is often talk about indoor farming, but I'm more excited about the ability to better manage, understand and control outdoor farming through better information and automation. The May 3rd edition of Upstream I highlighted irrigation technology, a space that is just scratching the surface of new tech. Being able to understand plants in the field, soil moisture, weather data and connect that with automation, yield prediction and quality/sustainability metrics begins to hold a lot of power for farmers.
We are just at the beginning of what sensors will do for farming. We will see more sensors on machinery, in the soil, in the sky and in our hands. All of these will paint a deeper understanding of what's going on in the field, what needs to be done and what will happen. Being continually connected to the cloud to bring insights and automation.
The platform aspect of this category I think will begin to slow down. We are starting to see winners in the space and there will only ever be so many platforms that successfully build enough scale to be viable. While each sensor and tool needs an interface, I believe we will see more and more API's and collaboration between useful tools and technology, feeding into leading platforms like John Deere Operations Centre, Climate Fieldview and Farmers Edge FarmCommand.
This is one of the categories I am most interested to watch in the coming years not just from an investment perspective, but what we will see happening in the field and ultimately in the wallets of farmers and agribusinesses.
Mergers &Acquisitions
" Over half of 2019's M&A deals included a US-based seller and nearly 40% were companies involved in digital farm management"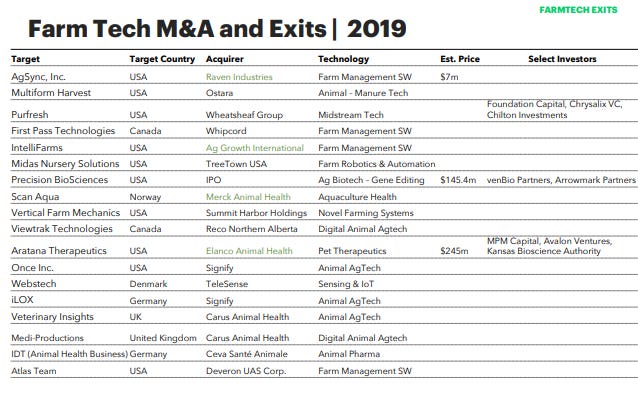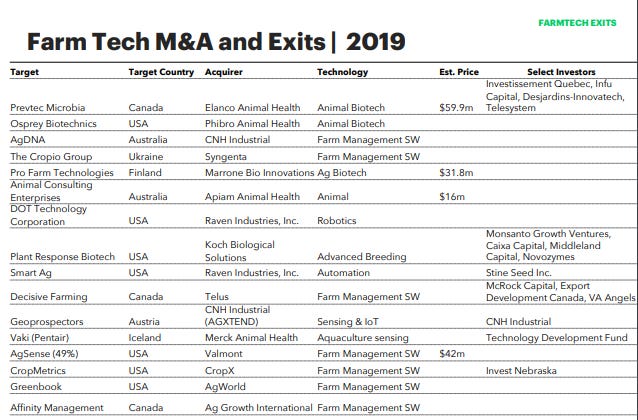 The activity in the Farm Tech space should continue even given the short term hiccups from COVID-19. Companies are looking to accentuate their digital offerings and enhance their physical product offerings through digital and tech. To top this off, opportunities for many companies will come from M&A, partnerships and investments. I think we will see more M&A over next 2-3 years as lots of investors look to get a return out of their investments and agribusinesses are looking to ramp their offering up to the next level.
Additionally, I think we will see more partnerships as organizations continue to adapt to the changing landscape and want to navigate this process with as little downside risk as possible.
This is an insightful couple of paragraphs from the Verdant Partners input in the report:
There was growth in the announcement of partnerships in lieu of acquisitions. We've still noticed inquiries from strategic input providers, equipment manufacturers, and retail distributors aggressively seeking solutions to both improve internal operations and grow markets with a comprehensive technological offering for customers, but the agtech landscape remains competitive and the large field of technology companies makes the identification and selection of acquisition targets challenging for big companies.

Meanwhile, technology companies have benefited by gaining access to the customer through partnerships without having to organically build expensive distribution channels. A downside to these partnerships has been a loss of independence and technology identity for agtech companies. Further, early stage companies become dependent on their partners' supply chains, which limits future market interest from potential buyers in a competitive business sales process.
In regards to the first paragraph I think we see a lot of "analysis paralysis" from incumbents, attempting to make the "right" decision as well a struggle in exactly how to integrate and fit the technology into companies core product offering.
The second paragraph emphasizes the role of product distribution. The decision to partner is a complex one for many of these start up businesses. Navigating B2B isn't easy, but can be less intensive on an organizations burn rate and overhead (depending on the business). What I hadn't considered is the dependency built up by these organizations that go this route. If those partners do not acquire the organization, the question of how sticky is the product or service is to farmers and how much value is added by that business will be paramount to understand when it comes to retaining customers. On top of this the organizations ability to pivot their go-to-market strategy will influence their future success.
---
Thanks for reading the bonus edition of Upstream Ag Insights.
Please share with your friends and colleagues!